Testing &
certification for
We provide step stool testing to EN 14183 for manufacturers, importers and Regulators. From testing a single clause to a full review, we can help.
Our T&RGETMARK Certification Mark could help if you are looking for Certification. The requirements are based on a Ladder Association certification scheme, which we manage on their behalf.
Our T&RGETMARK helps step stool manufacturers show to their clients and end users that the product conforms to standards.
EN 14183 - Step stool testing
We provide step stool testing against the requirements of the European Standard EN 14183. They can be made from steel, aluminium or plastic, be up to 1m tall and have a maximum total load of 150kg.
You can often find these stashed away in cupboards or kept around the kitchen. That's why they can be known as Kitchen Steps. Dome type step stools, often found in retail shops, are also known as Elephant Foot steps. Always there when you need a little step up. Therefore these little steps come in handy for all sorts of uses. 
The standard specifies the requirements for: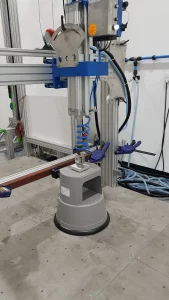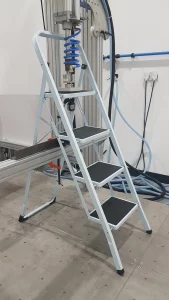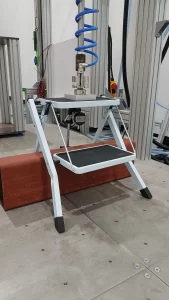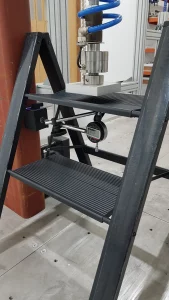 Examples of step stools during testing
How Certification can support your marketing
Leading equipment supplier, Parrs, had their UK made step stool Certified with Test & Research Centre.
Confident in the strength and design of the product, they wanted to lift their Kick Step out of the low-quality, low-cost market. 
Find out more by reading the case study.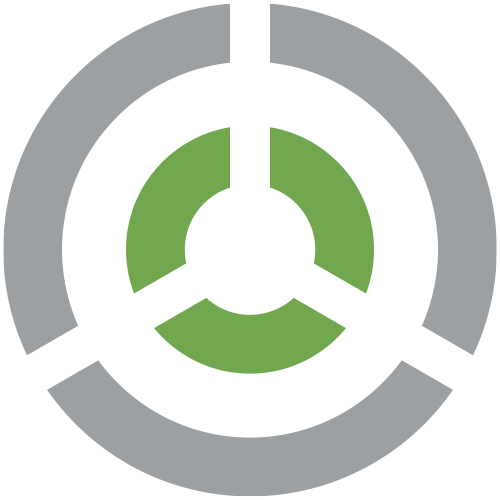 When you have your product tested and certified by Test & Research Centre, we'll grant you a licence to use the T&RGETMARK. The T&RGETMARK is Certification Mark, owned and managed by Test & Research Centre, and applied to qualifying products as a mark of quality assurance.