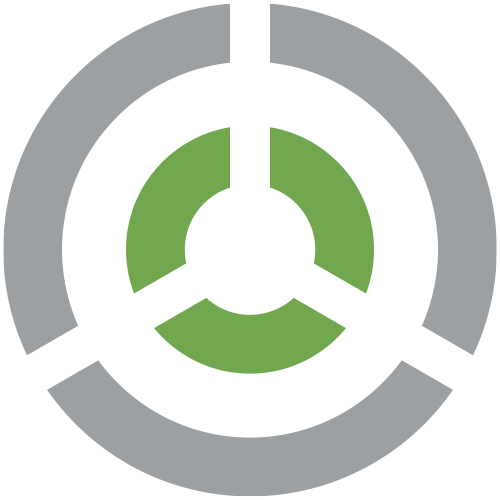 T&RGETMARK - A quality mark for access products
When you see the T&RGETMARK, you know you've got a product that meets the standards. The symbol has been placed there by a manufacturer who put their product (and its production) through Test & Research Centre's certification process so they could prove to you that it's safe and reliable. Look for T&RGETMARK whenever you procure, hire, use or inspect access products.
What products can carry the mark?
For each of these products, we operate a certification scheme that outlines the requirements that must be met before the product can obtain the T&RGETMARK. We manage some certification schemes for PASMA and the Ladder Association. 
Who owns and manages the mark?
T&RGETMARK is a certification mark that's owned and managed by Test & Research Centre Ltd. When a product passes our initial assessment, we grant the manufacturer a licence to use it and give them a Certificate of Conformity. We then conduct regular risk based surveillance audits to make sure the product today is as good as it was at the initial assessment, and that the product can continue holding the quality mark.
What does the mark look like?
Here's an example of what you'll see on qualifying products: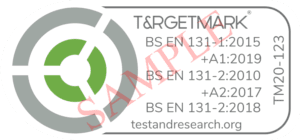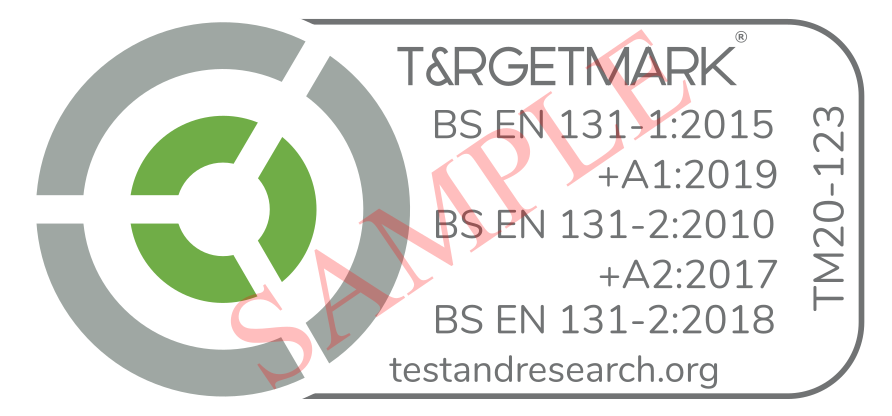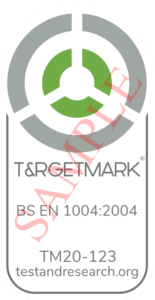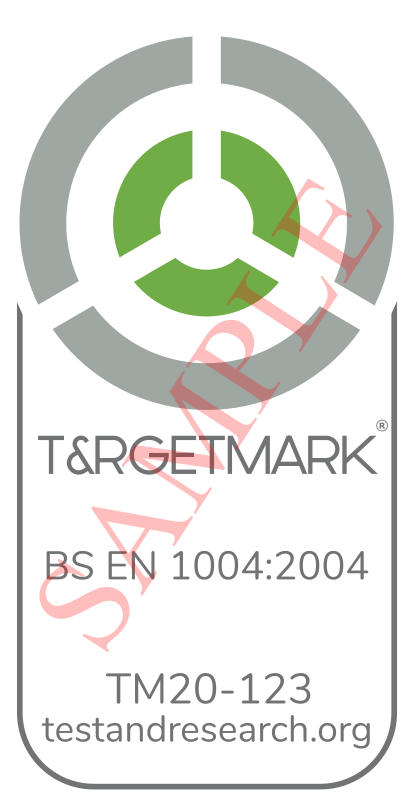 What products are T&RGETMARK Certified?
Certificate No.
Certificate Holder
Standard
Product Type
Name / SKU's
Date of expiry
TM1001
F Parr Ltd
BS EN 14183:2003
Step Stool
ARL001
10/11/24
TM1002
Ladder and Fencing Industries Ltd
BS EN 131-1:2015+A1:2019
BS EN 131-2:2010+A2:2017
BS EN 131-3:2018
Leaning, Standing and Combination Ladders
K3PF, K3PH, H3TC, K3WD, H7SS, H7DP, H7TP, CLA, REF, TK3WD, ALP
4/05/25
TM1004
Lakeside Industries Ltd
BS EN 1004-1:2020
Mobile Access and Working Tower
Alto Heavy Duty
Alto Medium Duty
21/12/25
TM1005
UTS Sales & Repairs Ltd
BS 8620:2016+C1
Low Level Work Platforms
UTS Podium
20/02/26
TM1006
Lakeside Industries Ltd
BS 1139-6:2022
Prefabricated Tower Scaffolds
Alto HD Large Deck Tower
Alto HD Cantilever Tower
Alto HD Stepped Tower
Alto HD Bridge Tower
Alto HD Linked Tower
Alto HD High Level Tower
Alto MD Stairwell-Pro
22/03/26
TM1007
Euro Towers Ltd
BS EN 1004-1:2020
Mobile Access and Working Tower
232 Tower - 3T
19/09/26
TM1008
UTS Sales & Repairs Ltd
BS EN 1004-1:2020
Mobile Access and Working Tower
ONE MAN, 250 - 3T & AGR, Ladder - AGR
14/11/26
TM1010
Euro Towers Ltd
BS 1139-6:2022
Prefabricated Tower Scaffolds
232 Cantilever Tower
232 Stair Access Tower
232 Bridged Access Tower
27/07/27
Management System Certification
| Certificate No. | Certificate Holder | Standard | System type | Date of expiry |
| --- | --- | --- | --- | --- |
| TM1003 | Ladder and Fencing Industries Ltd | BS EN ISO 9001:2015 | Quality Management System | 19/12/23 |
| TM1009 | UTS Sales & Repairs Ltd | BS EN ISO 9001:2015 | Quality Management System | 26/01/26 |